Biography
Dr. Ning Liu received a B.S. degree in Physics from Peking University, China, in 1999 and a Ph.D. degree in Condensed Matter Physics from University of California at Irvine in 2005. Prior to joining the University of Limerick,Ireland as a lecturer in 2013, she worked as postdoctoral research fellow in UK, Canada, China, and Ireland. She has specialties in scanning probe microscopy and ultrafast spectroscopy and microscopy. Her current research interests focus on nanophotonics, plasmonics and light emitting diodes. She has published 49 journal articles, including papers in Nature nanotechnology, Nature chemistry, Nature Materials, Light:Science&Applications, Physical review letters, Nano Letters, Advanced Materials, ACS Photonics etc. For a full list of publications, please visit: https://scholar.google.com/citations?user=QgUds54AAAAJ&hl=en


Research Interests
1. Light emitting diodes and lasers by electric field assisted semiconductor nanorod assemblies
The market for new types of displays based on light emitting diode (LED) technologies (i.e. organic LEDs (OLEDs) and quantum-dot LEDs (QD-LEDs)) is expected to reach more than $21 billion by 2020. Among these two technologies, QD-LEDs are expected to grow with a remarkable CAGR exceeding 60% and will make a major impact on the TV market in the near future.In collaboration with our colleagues in Chemistry, the group aims to develop a novel technology to fabricate low-cost, electrically pumped light sources such as LEDs and lasers with unprecedented high performance based on state-of-the-art nanomaterial assembly techniques. The nanorod (NR)-based LEDs we currently work on share the same advantages offered by QD-LEDs, such as low-cost of production, easy processing (in solution), ability to control and tune its emission wavelength, and high colour quality. However, they can outperform QD-LEDs owing to their unique geometry and size advantage, which lead to higher brightness and can afford larger operation current.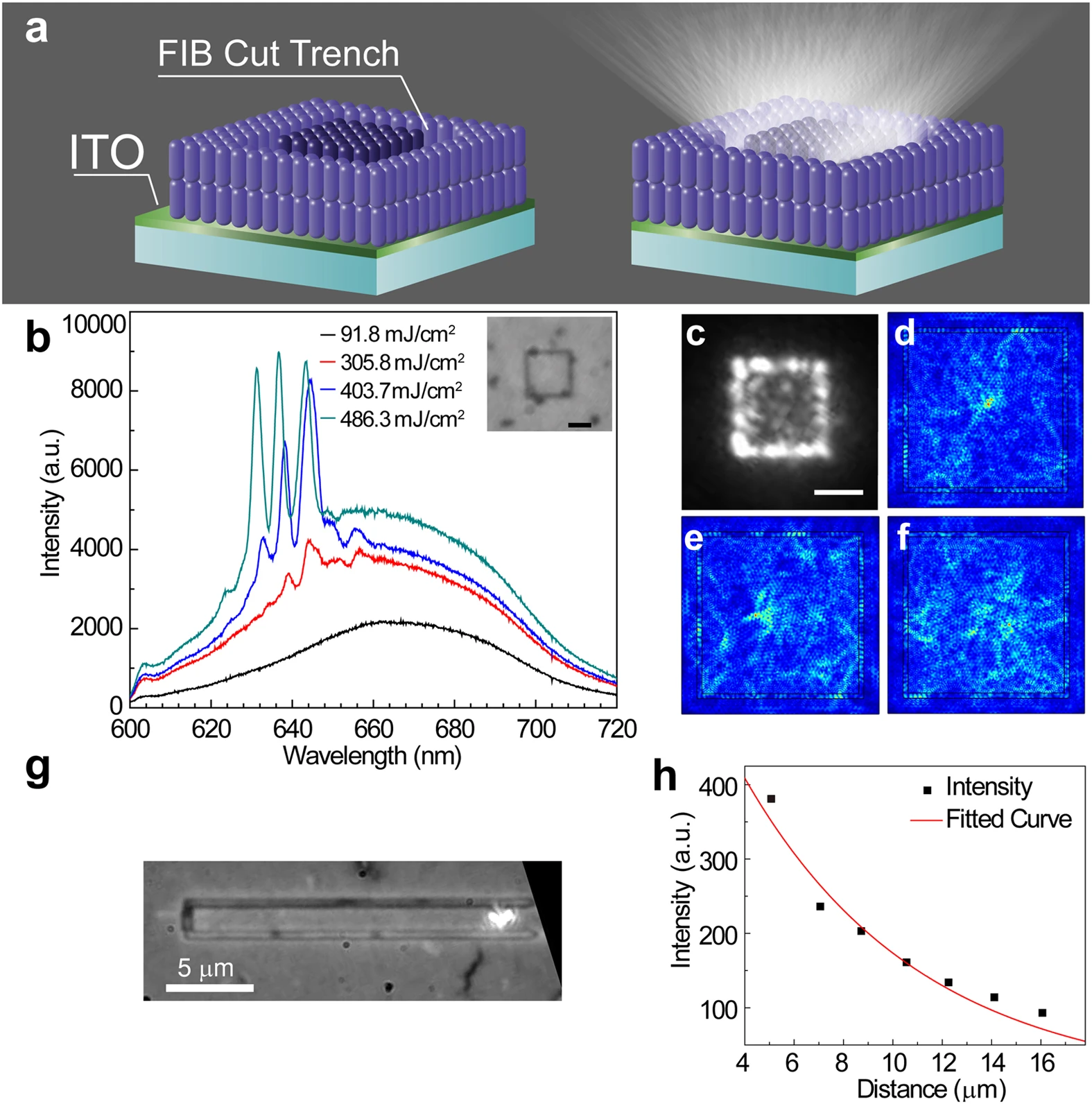 Figure 1 (details in ref. 1)

2. Nonlinear plasmonic waveguides and cavities

Plasmonic waveguides and microdisk cavities can provide an efficient means of nonlinear wavelength conversion of light in a chip-compatible platform. Our group fabricated nano- and micro-scale waveguides and cavities from the compound semiconductor AlGaInP, which were then transferred to plasmonic substrates composed of SiO2/Si coated with thin layers of metal oxide (Al2O3) and silver (Ag). When pumped with near-infrared light in the 1300 to 1600 nm region, efficient second harmonic generation (SHG) and sum frequency generation (SFG) were observed with a conversion efficiency of up to 14.8% MW−1. Control experiments with the same structures on plain glass substrates indicate that the plasmonic versions offer >1000 times enhancement in the nonlinear conversion efficiency. The results suggest a promising future for integrated optics employing plasmonics.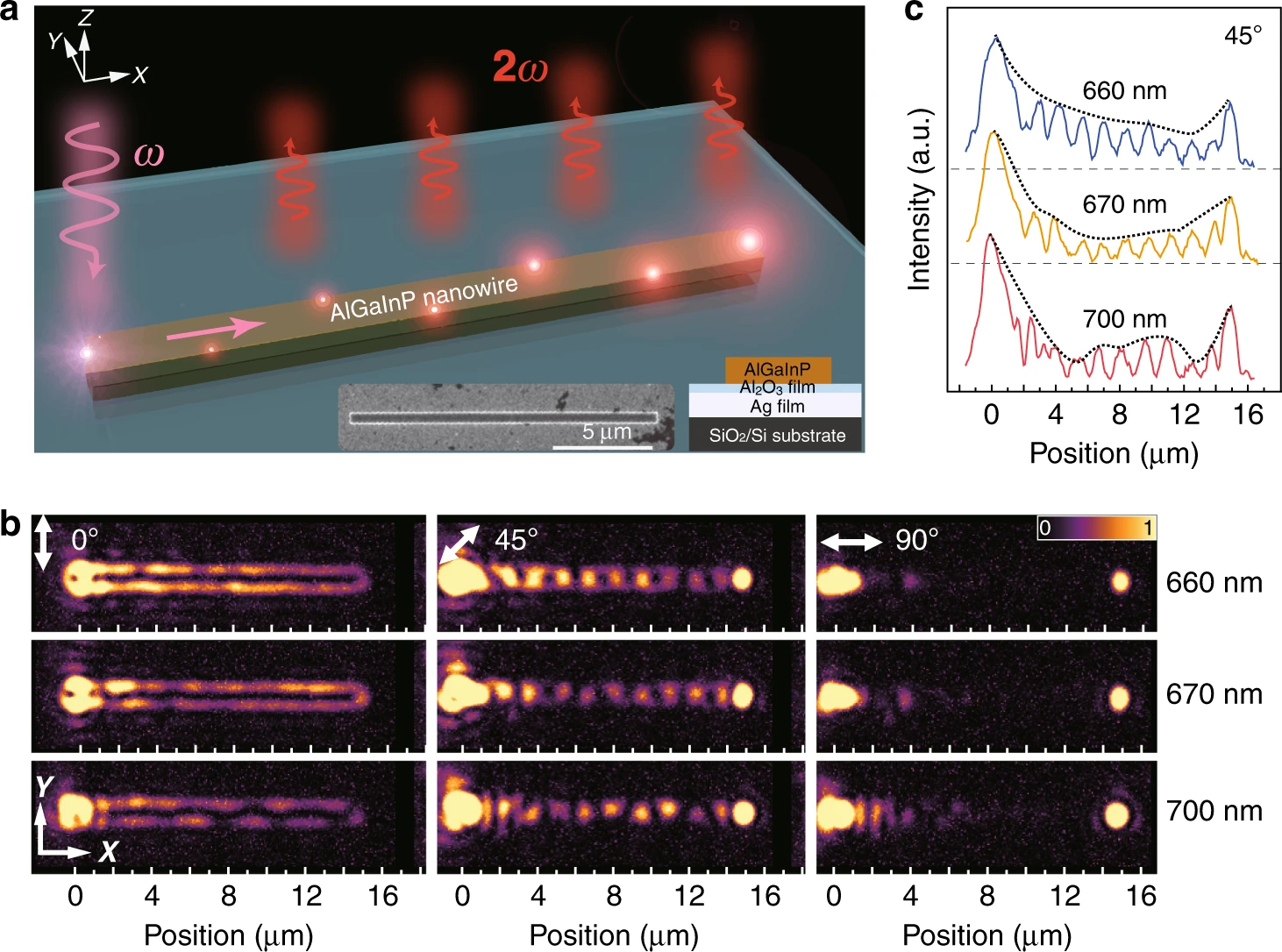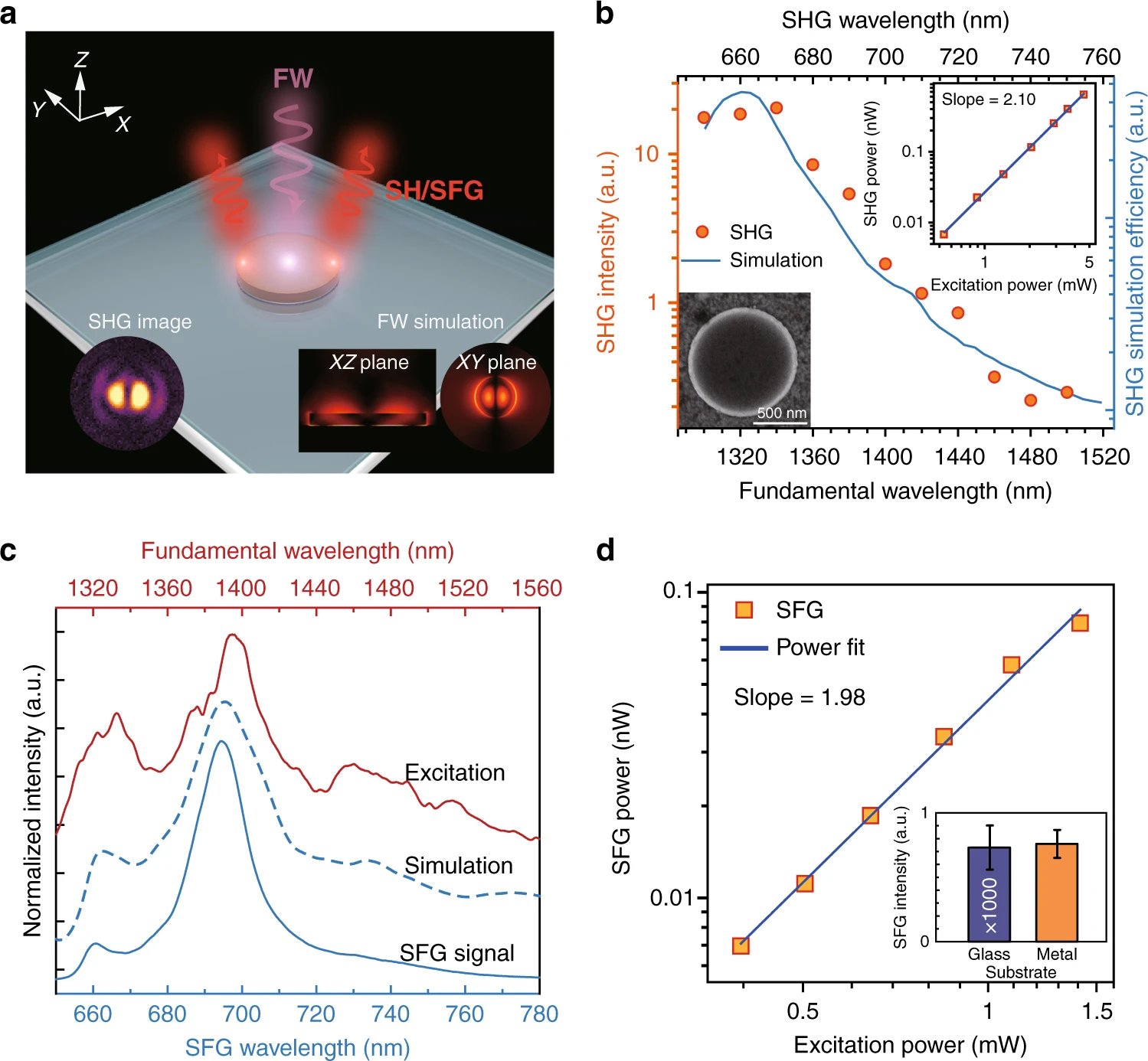 Figure 2 &3 (details in ref. 2)

3. Gain assisted surface plasmon propagation and resonances
Information and communication technology (ICT) has been driven by constant miniaturisation to achieve smaller and faster devices. The industry has reached a fundamental material barrier as feature size decreases below 10 nm. In this regime the conventional material properties needed for electron transport are fundamentally changed due to the parasitic capacitance and signal propagation delay. To sustain our rapidly increasing need for processing power, light is proposed to transport information on-chip. Light can carry more information by offering much larger signal bandwidth via parallelism of wavelength division multiplexing at very high clock rates. However, conventional optical components cannot reach the same integration density as that for integrated electronics due to diffraction limits of light.One of the current research interests of the group is to develop novel materials and exploit new concepts to realize optical computation in a scalable and cascadable manner with low energy consumption, without compromising the integration density. One solution to the above problem is to use propagating surface plasmons to carry the optical information. Surface plasmons can meet the large bandwidth demands by high-performance computation while still maintain high integration density.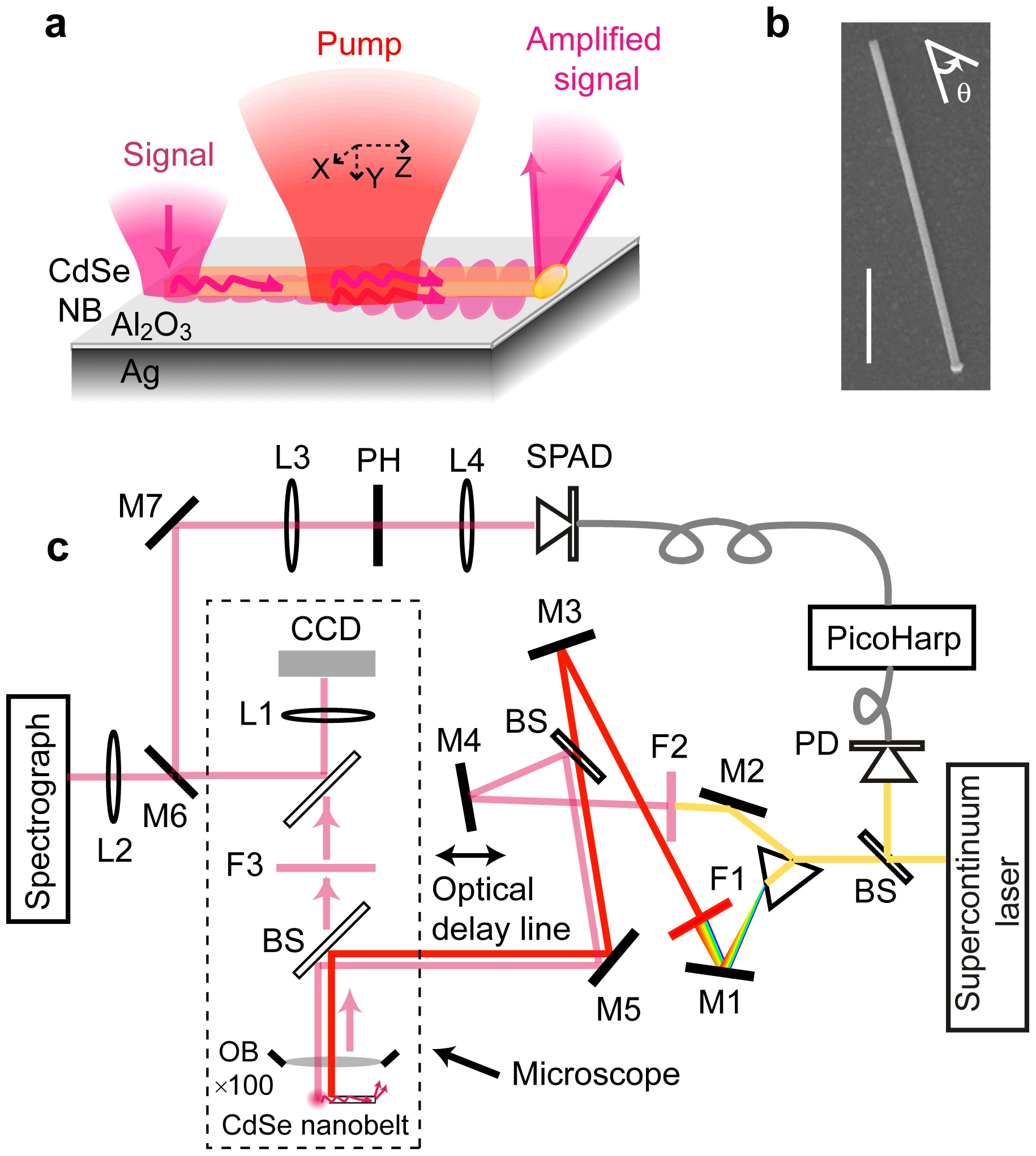 Figure 4. (details in ref. 4)


The group tries to accomplish the above goal by endeavouring in the following four aspects: (1) Exploit the new concept of 'hot' electron transfer at metal-insulator-semiconductor surface to realize low threshold signal amplification in plasmonic waveguides; (2) Explore surface plasmon enhanced energy conversion through nonlinear process; (3) Utilize these novel materials as building blocks to construct multi-terminal plasmonic networks to perform logic functions with low energy consumption, (4) Explore top-down and bottom-up fabrication methods to achieve large-scale integration of plasmonic lasers and waveguides.



Figure 5. (details in ref. 3)


References:
1. P. Liu, S. Singh, Y. Guo, J.-J. Wang, H. X. Xu, C. Silien, *N. Liu and K. M. Ryan, 'Assembling Ordered Nanorod Superstructures and Their Application as Microcavity Lasers', Scientific Reports, 7:43884 (2017).

2. Zhe Li, Brian Corbett, Agnieszka Gocalinska, Emanuele Pelucchi, Wen Chen, Kevin. M. Ryan, Pritam Khan, Christophe Silien, Hongxing Xu, Ning Liu*, 'Direct visualization of highly efficient second harmonic and broadband sum frequency generation and propagation in hybrid plasmonic nanostructures', Light: Science and Applications 9, 180 (2020).

3. N. Liu, A. Gocalinska, J. Justice, F. Gity, I. Povey, B. McCarthy, M. Pemble, E. Pelucchi, H. Wei, C. Silien, H. X. Xu, and B. Corbett, 'Lithographically defined, room temperature low threshold red-emitting subwavelength hybrid plasmonic lasers', Nano Lett., 16, 7822–7828 (2016).

4. N. Liu, H. Wei, J. Li, Z. X. Wang, X. R. Tian, A. L. Pan, and H. X. Xu, 'Plasmonic Amplification with Ultra-High Optical Gain at Room Temperature', Scientific Reports 3, 1967 (2013).

5. N. Liu, Z. P. Li, and H. X. Xu, 'Polarization dependent study on propagating surface plasmons in silver nanowires launched by a near field scanning optical fiber tip', Small 8, 2641 (2012).

6. H. Wei, Z. P. Li, X. R. Tian, Z. X. Wang, F. Z. Cong, N. Liu, S. P. Zhang, P. Nordlander, N. J. Halas, and H. X. Xu, 'Quantum dot-based local field imaging reveals plasmon-based interferometric logic in silver nanowire networks', Nano Lett. 11, 471-475 (2011).
Teaching Interests
- Quantum Mechanics (PH4061)
- Semiconductor I/Semiconductor Processing (PH4071/PH5098)
- Mechanics/Heat/Electricity & Magnetism (PH4131)
-Physics for Engineers 1 (PH4011)
- Wave/Light/Modern Physics (PH4102)
Research Collaborators
Alberto Diaspro - Joint Publication - Istituto Italiano di Tecnologia - IIT -Italy
Greg Sun - Host Incoming Visitor - University of Massachusetts Boston -USA
Hongxing Xu - Host Incoming Visitor - Chinese Academy of Sciences -China
Paolo Bianchini - Joint Publication - Istituto Italiano di Tecnologia - IIT -Italy
Publications
2017
Do Low-loss Doped Semiconductor Nanoparticles Yield Stronger Field Enhancement?
Khurgin, JB,Wu, PC,Tsai, DP,Liu, N,Hsieh, W,Sun, G,
(2017) Do Low-loss Doped Semiconductor Nanoparticles Yield Stronger Field Enhancement?
In 2014 Conference On Lasers And Electro-Optics (Cleo);
2018
Plasmon Waveguiding in Nanowires
Wei, H,Pan, D,Zhang, SP,Li, ZP,Li, Q,Liu, N,Wang, WH,Xu, HX
(2018) Plasmon Waveguiding in Nanowires
In Chemical Reviews;
DOI: 10.1021/acs.chemrev.7b00441